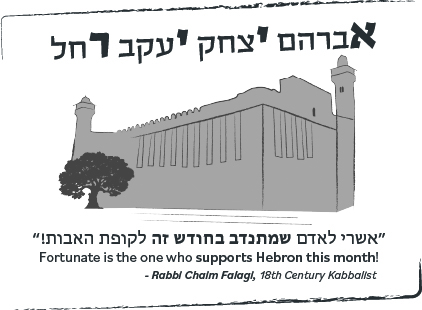 We are now in the Hebrew month of IYAR.
The great 19th Century Kabbalist, Rabbi Chaim Falagi, revealed an
important blessing and connection to Hebron during this month:
"The letters of IYAR stand for Abraham, Isaac, Jacob, and Rachel. Fortunate is the one who donates for the Patriarchs and Matriarchs, to the fund for the holy city of Hebron during this month… time is of the essence!"
With terror incidents increasing across Israel, your help is needed more than ever to maintain the holy sites, support the community standing on the front lines, and take care of the brave IDF soldiers who keep the city safe.
We urge you to renew your connection to Hebron during this fortuitous month and take advantage of Rabbi Falagi's holy blessing for health and protection.