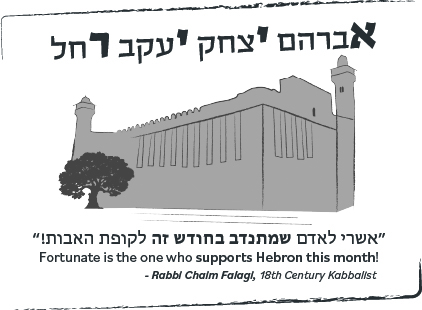 We are now in the Hebrew month of IYAR.
The great 19th Century Kabbalist, Rabbi Chaim Falagi, revealed an
important blessing and connection to Hebron during this month:
"The letters of IYAR stand for Abraham, Isaac, Jacob, and Rachel. Fortunate is the one who donates for the Patriarchs and Matriarchs, to the fund for the holy city of Hebron during this month… time is of the essence!"
Now, during IYAR, we want YOU to benefit from extra protection and holy merits.
The holy books alert us that the world's prayers pass through Hebron on their way to heaven and these heroes of Hebron keep the lines of communication open and accessible.
We are asking for your support to fund two projects.
1. To refurbish and beautify holy sites across Hebron so visitors and worshippers can connect to their roots.
2. To install more life saving surveillance camera systems in Hebron to help keep Hebron residents, visitors, and soldiers safe.
We urge you to renew your connection to Hebron during this fortuitous month and take advantage of Rabbi Falagi's holy blessing for health and protection.
You can connect to Hebron all year round- sign up for a monthly donation amd you can bring a piece of your Jewish heritage into your home as an Honorary Citizen of Hebron with a certificate signed by Hebron's Mayor and community leaders. You'll also receive a Abraham is our Forefather medallion, the first in a series of Forefathers and Mothers medallions.
*Donate $18/month to receive Honorary Citizenship (including a signed certificate)
*Donate $45/month to receive Honorary Citizenship and a Bronze Abraham medallion
To find out more about Honorary Citizenship please click here.