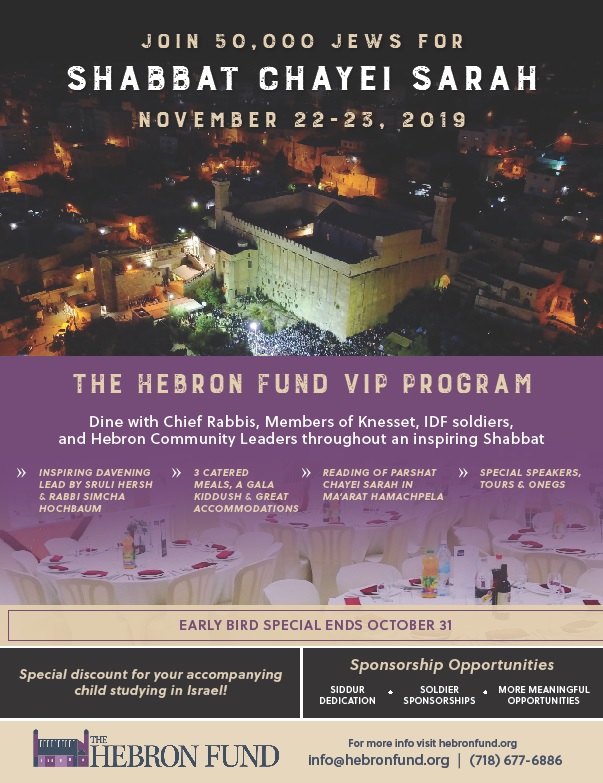 Join us in Hebron for the Shabbat of a lifetime, Shabbat Chayei Sarah, November 22-23, 2019!
The Hebron Fund offers an incredible VIP weekend program including 3 catered meals with Knesset Members, IDF commanders, soldiers, and leaders of the Jewish Community of Hebron; inspiring services lead by Chazzan Sruli Hersh and Rabbi Simcha Hochbaum, oneg Shabbat and discussions, reading of Parshat Chayei Sarah in the Isaac and Rebekah Hall (only open 10x a year), Shabbat morning hot kiddush, tours, special speakers, great accommodations and round-trip coach bus transportation from Jerusalem.
To register and/or to sponsor a soldier(s), please submit your payment below or call our office (718) 677-6886
Pricing: Early-Bird Special now through November 4th

$750/adult (after Nov 4 - $850/person)
Parent with an accompanying child (through college age)- $1,000 total ($250/child) (after Nov 4- $1,150 [$300/child])
Cant join us? Give soldiers a break.
-Sponsor a meal for a Hebron soldier (on duty): $90
-Sponsor a meal for 2 Hebron soldiers (on duty): $180
-Sponsor an off-duty lone soldier to represent you (includes full program including housing, 5 meals, transportation): $500
-Sponsor a table of chayalim/officer: $1,000
Please add up your total and fill in that amount in the 'Amount' box below
Payment examples
Sample A (attendees)
1 adult registration $750
Sponsor 2 soldiers $180
Total: $930

Sample B (attendees)
1 adult registration $750
1 accompanying child $250
Sponsor 1 soldier $90
Total: $1,090

Sample C (non-attendee)
$500 to sponsor a lone-soldier to attend the full program
$90 to sponsor a meal for a Hebron soldier
Total: $590